The 2020 Hyundai Veloster – Fun with a capital N
Fun with a capital N! ⁠ Engineered from Motorsport exploits and built exclusively for those who truly love to drive, 2020 Hyundai Veloster N is the first U.S. model of there high-performance N series. N is the first letter of Namyang, the city that's home to Hyundai's R&D facility. It's also the first letter of Nürburgring, the epic track where Veloster N was tested. ⁠The 2020 Hyundai Veloster N comes with 2 available packages: the Veloster N Standard Package and the Hyundai Veloster Performance Package.
One of the great features for the 2020 Hyundai Veloster N is the truly customization of driving modes to fit the vehicle performance to your needs. Fine-tune your performance thrills by customizing your own drive mode. Calibrate each of the seven chassis and powertrain settings. Or just max-out on everything and press the dedicated N-mode button on the steering wheel.
Powertrain: Engine⁠
Normal: A balance of power and efficiency.
Sport: Quicker throttle response.
Sport+: Fastest throttle response and power output.
⁠
Powertrain: Rev-matching⁠
Normal: Smoother, faster shifting.
Sport: Quick RPM control for sportier shifting.
Sport+: More aggressive, earlier downshifts to keep revs higher.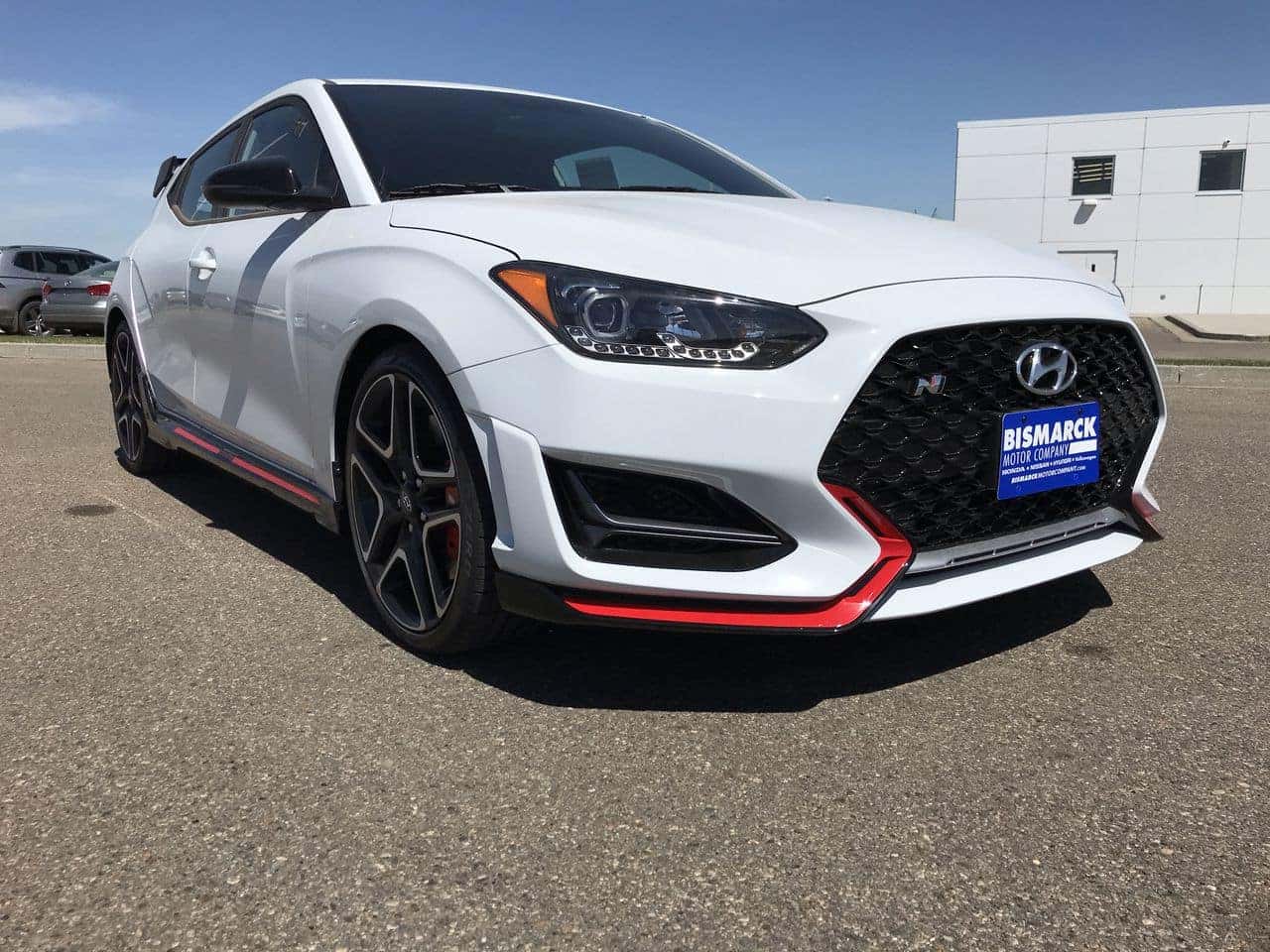 Powertrain: eLSD⁠
Normal: Reduces understeer and boosts cornering stability.
Sport: Enhanced driving dynamics.
Sport+: Ultimate gripping performance and cornering speed.
⁠
Powertrain: Exhaust sound
Normal: Spirited yet considerate exhaust levels.
Sport: A more aggressive exhaust sound.
Sport+: Belts out energizing pops and crackles.
Chassis: Suspension
Normal: Comfort mode for everyday driving.
Sport: Increased damping to provide sportier handling.
Sport+: Maximum stiffness for the most aggressive cornering.
Chassis: Steering⁠
Normal: Lighter steering feel.
Sport: More resistance increases control and responsiveness.
Sport+: Highest level of tightness that's at home on the track.
Chassis: ESC⁠
Normal: Greater traction and control.
Sport: Improves performance by allowing some oversteer.
Sport+: Reduced setting for more aggressive driving.
Stop by Bismarck Motor Company or use our BMC Direct program to take the 2020 Hyundai Veloster N for a test drive today! You can also let Hyundai take care of the maintenance for you. Every new 2020 Hyundai gets Hyundai Complimentary Maintenance for 3 years or 36,000 miles (whichever comes first).