BISMARCK MOTOR COMPANY ANNOUNCES NEW LOCATIONS IN MANDAN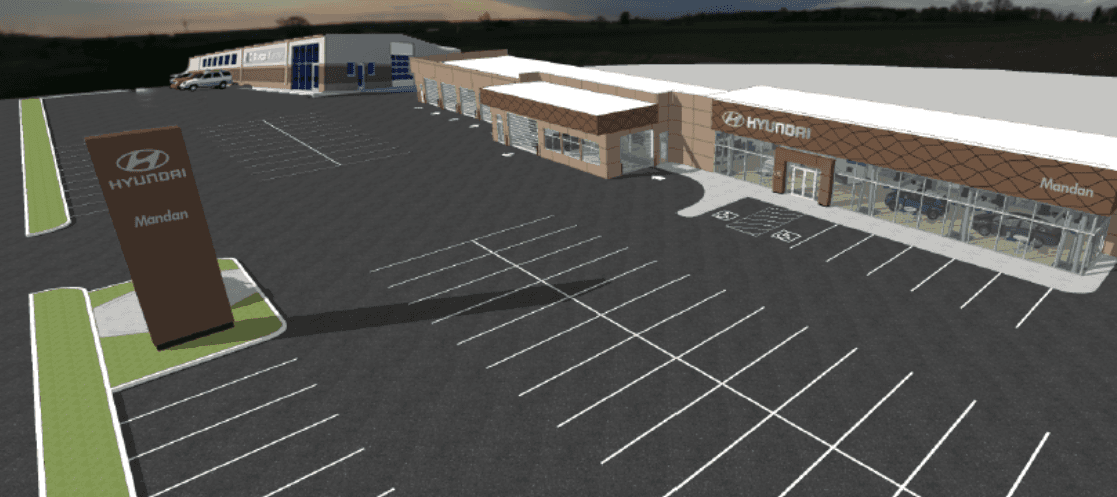 Oct. 1, 2021 – Bismarck Motor Company, the area's leader in the automotive industry, is expanding its facilities and opening new locations in Mandan, N.D.
The dealership group will begin renovations of the vacant properties located at 805 and 905 East Main Street in December of 2021. The property at 905 East Main will receive a complete exterior and interior remodel, including seamless glass windows, an extended bronze facia, an air conditioned shop and a new parking lot, to become one of the newest state-of-the-art Hyundai dealerships in the nation. The location will offer New Hyundai vehicles, pre-owned vehicles, service and parts operations.
"We're extremely excited to expand the BMC brand and our services to the Mandan community," states Dealer/Owner, Chris Schneider. "This Hyundai dealership is the newest release and design for Hyundai dealership's nationwide, and Hyundai has some big things going for their brand, we're proud to give Hyundai a stand-alone facility, and make Mandan it's home."
The 805 East Main property includes demolishing a section of the current building, adding a new entrance, windows, exterior remodel, air conditioned shop area and office space to the remaining building. The space will be utilized as Bismarck Motor Company and Hyundai of Mandan's detailing facility, currently located in south Bismarck. The dealership will also offer windshield replacement, paint corrections and dent repair and is open to the public for all services.
"We pride ourselves on guest satisfaction, and, as always, offer the convenience of our BMC direct services for all our guests in the Bismarck-Mandan and surrounding communities for service pick-up and delivery, as well as remote test drives and vehicle deliveries," said Schneider
The facilities plan to be open for business late Spring 2022. (Scroll down to see renderings)