Darin's Top 5 Likes of the 2021 Nissan Rogue SV
We cannot get enough of the all-new redesign of the 2021 Nissan Rogue. And unlike many dealerships around the nation who are experiencing inventory shortages, our sales managers have been working hard to assure they stock the right vehicles at the right time and when you need them most – so our lot is packed with the fuel-efficient AWD all-new Rogue! With a large selection with choices of exterior and interior options and gas prices on the rise, we wanted to get one of our Nissan enthusiasts, and veteran sales consultant, Darin Rixen's top 5 reason's why he loves the all-new redesigned 2021 Nissan Rogue SV.
So, what did Darin have to say about the all-new Rogue? Check out his Top 5 Likes of the 2021 Nissan Rogue SV Below:
Modern Styling
Safety Features (pro-pilot)
360 Degree Camera
Nissan Connect Services
Updated 2.4 cyl. engine providing more HP (181 vs 170), and enhanced accelerations without having to sacrifice GREAT fuel economy! (32 HWY, 27 in town, 29 combined)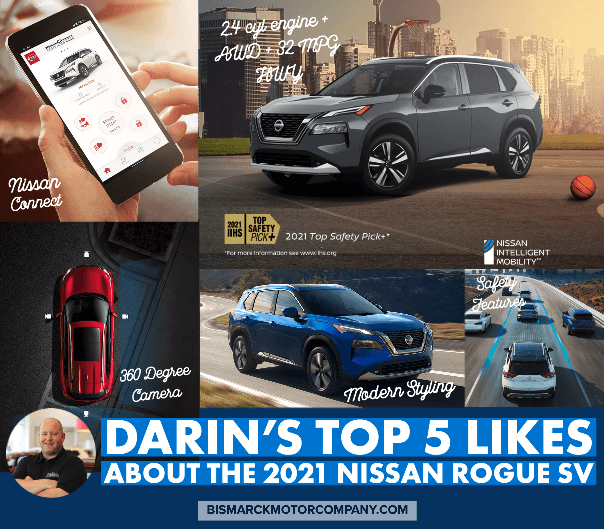 We love SO many things about the all-new Rogue. Stop by and take it for a test drive in person at Nissan of Bismarck at Bismarck Motor Company today!