2020 Hyundai Sonata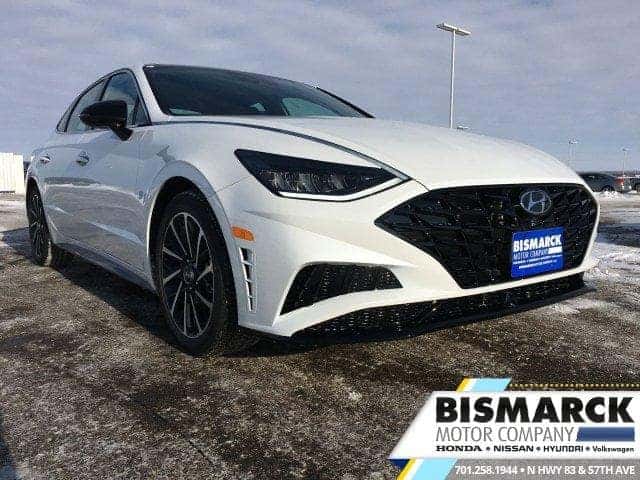 The bolder, the better.
Suddenly the ordinary is extraordinary. Innovation after inspired innovation makes the
all-new 2020 Sonata
the best thing to happen to sedans in forever, astonishing the world with reimagined everything. From sexy sports coupe design cues to tech and safety that bound into the future, Sonata's done it again.
New energy
See the light.
When the lights come on, the secret's out. Hidden elegant lights integrate with the chrome trim for an inventive design that sets the tone for
Sonata's
many sweeping enhancements. It's an exhilarating take on what a sedan can be, and this is just the beginning.
Remote Smart Parking Assist
Valet parking without the valet.
You don't even have to be in the car to park it. Just press a button on your Smart Key and Sonata can drive itself into a parking space, and pull out of one, too. All you have to do is find the parking spot.
*
Sport styling
Longer, lower, wider.
Near-perfect proportions transform this four-door into a coupe-like wonder, from its seamless hood to its fastback rear design. This reimagined Sonata has turned the page on the predictable styling, for a midsize sedan that is anything but typical.
The inside story
Step into the future.
Surround yourself with the new essentials—thoughtful, innovative features presented in a modern, clean space designed for your comfort, convenience and sophisticated style.
Technology
Connected like never before.
What if your phone could do the same things as your key fob, unlocking your car and starting the engine? What if your car could park itself, and charge your phone wirelessly? It's happening. Tech innovations sure to become instant essentials.
For cutting-edge safety and convenience, we didn't cut corners. Our vehicles completely surround you and your passengers with a wide range of features that automatically look out for you. From cameras to ultrasonic sensors to radars, our sophisticated network acts as extra sets of eyes when you drive or park. You'll know it as peace of mind. We call it Hyundai SmartSense.