2020 Hyundai Sonata Key Fob Goes Digital
With so many manufacturers wanting to be the first in providing state of the art technology to their vehicles to draw attention for younger consumers, the 2020 Hyundai Sonata blazes a technological path forward for the Korean automaker.
Hyundai is working to make key fobs a thing of the past. They will be introducing a "digital key" app that uses an Android smartphone to unlock and start a car. The feature will be available on the completely redesigned 2020 Hyundai Sonata midsize sedan except the base model trim.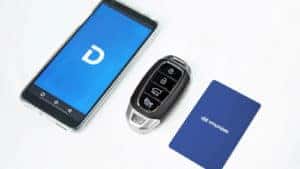 The Android app uses a combination of wireless communication technologies to replace a car's key fob. Near field communication (NFC) is used to detect an authorized smartphone. One NFC antenna in the driver's door handle enables locking and unlocking, while a second antenna in the wireless charging pad in the center console allows the phone to start the car's engine. Digital Key means drivers can unlock the car by placing their phone directly on the Sonata's door handle. Other vehicles require a traditional key fob to be inside the car to fully engage the vehicle after it's been started remotely. While the Sonata will still be sold with a smart fob, all you need is your phone to put it in drive and go on your merry way. Bluetooth Low Energy enables remote engine starting (up to 30 feet from the car), remote locking and unlocking, and the car alarm's panic mode.The 2020 Hyundai Sonata is the first to apply it to a mainstream production car.
Hyundai is using Trustonic Application Protection (TAP) to secure the Digital Key. TAP ensures that Digital Key transfer requests are securely displayed to and approved by a real, authenticated user on a trusted device. TAP utilizes a multilayered industry-recognized security approach for communication to and from the customer's phone.
Hyundai said the app can be utilized by up to four authorized users, making it easier for owners to share their cars with others. Each user's preferred settings for things like seat and mirror position and radio presets are stored in the car, so everything automatically adjusts when a given user is detected. The car owner can also set parameters for other users. An owner could, for example, give a delivery service access to the trunk during a certain time window to drop off a package, according to Hyundai. Hyundai believes this feature could also give owners peace of mind when renting their cars out to other people. In the future, owners could set geo fenced limits and other safeguards, according to Hyundai.